Strudla - part of Serbian culinary tradition
The dessert that has become an indispensable part of the Serbian table and extends through its tradition and gathers the family for generations and makes that holiday table even richer. While you are tasting your favorite dessert or planning to try its preparation, we will tell you where this cake is believed to come from and share a recipe for making strudel that is common in many places in Vojvodina.
It is believed that the strudel is, in a way, the heir of baklava, which first arrived on the territory of today's Hungary (in the first half of the 16th century) during the Ottoman-Habsburg war. During that period, under the influence of the Ottoman Empire, Hungary took on certain aspects of Ottoman culture and gastronomy. There is evidence that the literal meaning of the word baklava is wrapped in itself. This leads to the explanation that strudel, primarily due to the way the dough and hope are wrapped, originates from this oriental ancient delicacy. Later (at the end of the 17th century), when Hungary was conquered by the Habsburg Empire, mostly apples, but also other fruit fillings, began to be added to the thin dough of the former baklava. The origin of the new cake, the evolution of baklava in strudel, was also noted in writing, in a cookbook from 1696, which is now kept in the Vienna State Library. Thus strudel (translated from German - vortex or whirlpool), even during the time of Maria Theresa, became a favorite and inevitable cake of Viennese salons.
Strudels were considered a specialty of the Habsburg court. The word is derived from the German word Strudel, which means vortex. This yeast dough cake is easily domesticated in our region, and especially in Vojvodina. Poppy seed strudel is especially popular. It is served warm and crunchy, and its preparation requires special conditions. It is mostly made of poppies, so first of all it is necessary to dry the poppy seeds well and grind them.
In Vojvodina, poppy seed strudel is made for every important holiday or day that is specially marked in each family. It is an unavoidable treat for Christmas, Easter, celebration or any larger family gatherings, and it can also be a great substitute for dinner with a glass of cold milk or tea.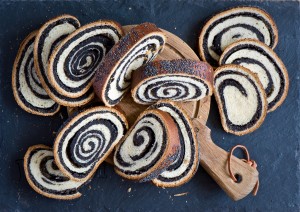 For poppy seed strudel you need:
For the dough:
500 g flour
250 ml of milk
30 g of yeast
1 egg
1 egg yolk
50 g of sugar
50 g of melted butter
For fil:
500 g of poppy seeds
200 g of sugar
1.5 cups milk
For coating:
1 egg
Preparation
Stir the yeast and sugar in the lukewarm milk. Then add the other ingredients for the dough and place. Leave to stand for about 20 minutes. Then divide into 3 parts. For the filling, mix poppy seeds and sugar. Heat the milk almost to boiling. Add in poppy seeds and sugar a couple of times. Not all at once and mix nicely. Roll out the dough, then coat it with the filling and roll it into a roll. Preheat oven to 200 degrees. Line a baking sheet with parchment paper or coat with oil, then place the strudels. Coat with beaten egg and bake until nicely browned.
Bon appetite!