Silvia Gribaudi Company, Venice
Map Unavailable
Date/Time
Date(s) - 09/11/2020
9:00 pm
Location
MADLENIANUM Opera & Theatre Belgrade
Categories No Categories
Due to the Coronavirus and closing of the theatres in Serbia, the show of Silvia Gribaudi Company that was scheduled for 9th April 2020. in Theater Atelje 212, is rescheduled for 9th November 2020. godine at Opera Madlenianum. All tickets are valid for the new term.
Graces
choreography: Silvia Gribaudi
dramaturgy: Silvia Gribaudi, Matteo Maffesanti
light design: Antonio Rinaldi
costume design: Elena Rossi
technical director: Leonardo Benetollo
technical assistant: Theo Longuemare
duration: 50'
premiere: 2018, Teatro Annibal Caro, Civitanova
performers: Silvia Gribaudi, Siro Guglielmi, Matteo Marchesi, Andrea Rampazzo
Winning Project of the action CollaborAction#4 2018/2019
Selected by NID Platform 2019
production: Zebra
co-production: Santarcangelo dei Teatri
supported by: MIBAC
Project realized with the contribution of ResiDance XL–luoghi e progetti di residenza per creazioni coreografiche, action of the network Anticorpi XL – Network Giovane Danza D'autore, coordinated by L'arboreto – Teatro Dimora di Mondaino e IntercettAzioni – Centro di Residenza Artistica della Lombardia – progetto di Circuito CLAPS e Industria Scenica, Milano Musica, Teatro delle Moire, Zona K Artistic residencies: Klap – Maison Pour la danse Marseille, Centro per la Scena Contemporanea/Operaestate Festival del Comune di Bassano del Grappa, Orlando Bergamo, Lavanderia a Vapore Centro di Residenza per la danza regione Piemonte, L'arboreto – Teatro Dimora | La Corte Ospitale: Centro di Residenza Emilia-Romagna, ARTEFICI – Artisti Associati di Gorizia, Dansstationen, Danscentrum Syd, Skånesdansteater Malmö Sweden and with the support of Centro di Residenza Armunia/CapoTrave Kilowatt. CollaborAction#4 2018/2019 – in collaboration with festivals ad theatrical seasons organised by Rete Anticorpi, Ater Circuito Regionale Multidisciplinare, Associazione Mosaico Danza/Interplay, Piemonte Dal Vivo, Amat, Arteven, Fondazione Teatro Comunale di Vicenza, Associazione Artedanzae20, Teatro Pubblico Pugliese, C.L.A.P.Spettacolodalvivo, Associazione Armunia, Fondazione Toscana Spettacolo Onlus.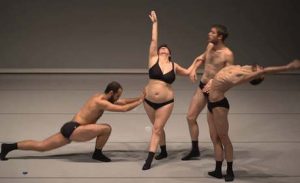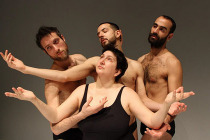 Piece inspired by the neoclassical sculpture "The Three Graces", which Antonio Canova created between 1812 and 1817, as the universal benchmark of beauty, proportions, and measure. On stage, four dancers move on an empty scene, their costumes do not hint at any specific context. In a game between reality and fiction, "Graces" dances through time, following the score of classical music by Vivaldi and Strauss, the electronic score by Matmos, and the hypnotic experimentation by Koudlam, accompanying the viewer through a path that does not clarify, but rather further complicates the relationship and nature of these characters. In "Graces" a new concept of Grace is unveiled. Unveiling is meant as "uncovering to show for the first time" and also as "taking off a veil", that is digging into what is superficial, looking for the roots. What is beauty? How does it show itself? The "Graces" are an aesthetic canon of beauty, but first of all they embody joy, splendour, and prosperity. "Graces" is a sculptural, pop piece that investigates the various shades of a concrete and insolent beauty, one that can overturn all beauty standards.
Winner of both the Audience Award and the Jury Award at the GD'A Veneto 2009, shortlisted in 2010 for Aerowaves Dance Across Europe, finalist of the Premio Equilibrio 2013, Silvia Gribaudi has participated in numerous national and international festivals, among which the Biennale di Venezia and the Edinburgh Fringe Festival. In 2012 she was collaborating with Israeli choreographer Sharon Fridman and she started projects of Art in Action on human rights with Anna Piratti. She has taken part in artistic projects for dance research. She taught until 2010 at the Veneto Theater Academy, while later she was leading numerous workshops in Italy and abroad on the quality of presence and on body expression. In 2010 she is a performer in the Italian TV program "Vieni via con me" with Roberto Saviano and Fabio Fazio – RAI 3. She creates specific performances on different social issues, from such as gender or aging issues. From 2013 to 2015 she was focused on body and nudity and started this research by creating performances such as: "The film contains nudity" and "What age are you acting?". In 2016 and 2017 she directed and choreographed performances "My Place", "Felice" and "R. OSA_10 esercizi per nuovi virtuosismi", where the body of performers becomes the main focus, thanks to its expressive identity. "R. OSA" was also presented at the Belgrade Dance Festival, as well as shortlisted for the Ubu Prize and Rete Critica prize. In 2017 she premiered "Empty. Swimming. Pool" in Vancouver, an Italian-Canadian co-production with Tara Cheyenne Frienderberg. In 2019 she premiered "Graces", the project selected by CollaborAction#4 2018/2019, and "Humana Vergogna", as part of Matera European Capital of Culture 2019.
There is a mystical and sincere energy between the three dancers and Gribaudi who, like a metronome, calibrates the temperature and the internal and external times of the performance. This energy come with a liberating, saving, almost hoped-for power, and in turn generates other uncontrolled, non-standard, potentially revolutionary energies.
© La Repubblica
Silvia Gribaudi is a unique artist who cultivates the ugly-ism and a bitter humor; her showy physique is definitely against the current.
© El Pais
Ticket price: RSD1500