Dreseden Frankfurt Dance Company
Map Unavailable
Date/Time
Date(s) - 03/11/2020 - 04/11/2020
11:00 pm - 1:00 am
Categories No Categories
From Now On
choreography, light, stage, costume: Jacopo Godani
music: Steven Mackey, Physical Property (1992) from the album Short Stories, recorded by the Kronos Quartet
duration: 15'
premiere: Frankfurt am Main/Bockenheimer Depot, 2018
The choreography is a visual architecture – a construction that seems uncomplicated but has an incredible amount of information within itself. Searching for an unconventional situation in which to challenge the body with ideas, Godani develops a sophisticated allusion to the geometry of classical dance from a contemporary frame of mind…
Echos from a Restless Soul
choreography, light, stage, costume: Jacopo Godani
music: Maurice Ravel, Ondine & Le Gibetfrom Gaspard de la Nuit
piano: Svjatoslav Korolev
duration: 15'
premiere: Frankfurt am Main/Bockenheimer Depot, 2018
A composition for solo piano is written by Maurice Ravel in 1908. The basis for this masterpiece is an earlier French poem by Aloysius Bertrand. On a creation of incredible virtuosity, Ravel brings Bertrand's poems to life, employing an innovative piano technique within a classical form. The choreographic elements form a common thread, merging in an atmosphere that transcends time and place… Godani enhances movement with pointe shoes while creating a remarkable freedom within certain aesthetic parameters – as the ones from a more classical approach. Ravel's score is performed live.
High Breed
choreography, light, stage, costume: Jacopo Godani
music: 48nord (Ulrich Müller & Siegfried Rössert)
duration: 25'
premiere: Dresden / HELLERAU – European Centre for the Arts, 2017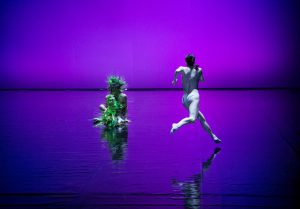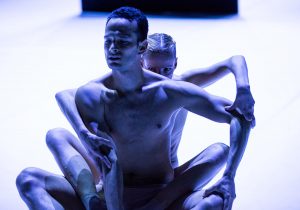 As a giver of shape who wants to bring viewers into the dance experience, Godani attempts to escape from the imaginable, to go beyond it, and in his way, he creates an intriguing darkness: a realm in which potentiality emerges beyond light…With a physical intensity, rich in action and in exactitude – virtually mathematical in its precision, he reveals the quintessence of the company's identity. By forgoing the superficial and emphasizing a masterful knowledge of technique, the spectator experiences choreography as a signature event in the truest sense of that word.
Supported by the city of Dresden and the state of Saxony as well as the city of Frankfurt am Main and the state of Hesse. Company-in-Residence of both HELLERAU – European Centre for the Arts in Dresden and the Bockenheimer Depot in Frankfurt am Main.
Price: 1500RSD – 2300RSD