Map Unavailable
Date/Time
Date(s) - 06/11/2020
8:00 pm - 9:15 pm
Categories No Categories
Due to Coronavirus and the closing of theaters in Serbia, the show of Company 111 from Toulouse that was scheduled for 22nd March 2020. at Theater Atelje 212 is rescheduled for 6th November 2020. All tickets are valid for the new term.
aSH
with: Shantala Shivalingappa
and: Loïc Schild (percussions)
choreography: Shantala Shivalingappa
artistic collaboration: Taïcyr Fadel
light design: Arno Veyrat
music: Joan Cambon
set technical conception: Pierre Dequivre, Stéphane Chipeaux-Dardé
costumes: Manuela Agnesini
technical director: Thomas Dupeyron
stage manager: Robin Jouanneau
stage manager: Stéphane Ley
light manager: Mallory Duhamel
head of production: Florence Meurisse
production manager: Clément Séguier-Faucher
logistic manager: Estelle Castagnoli
photography: Aglaé Bory
duration: 60'
premiere: Festival Montpellier Danse, 2018
production: Compagnie 111 – Aurélien Bory
co-production: Théâtre de la Cité–CDN Toulouse Occitanie, Festival Montpellier Danse 2018, Agora PNAC Boulazac–Nouvelle-Aquitaine, La Scala–Paris, L'Onde Théâtre Centre d'Art–Vélizy-Villacoublay. With the artistic participation from ENSATT, Lyon.
Compagnie 111 –Aurélien Bory is under funding agreement with the Regional Directorate for Cultural Affairs Occitanie / French Ministry of Culture and Communication, Region Occitanie / Pyrénées-Méditerranée and the City council of Toulouse. It is supported by the Departmental Council of Haute-Garonne and the French Institute.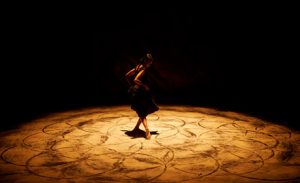 I met Shantala Shivalingappa in 2008, backstage at a theatre in Dusseldorf, where she was a guest of Pina Bausch. It was the last Drei wochen mit Pina festival. Shantala danced in "Nefes", and this is where she saw "Plus ou moins l'infini". It was here that everything came together in a hugely powerful way. It seemed almost unreal to me because so many elements significant to my path and that of Shantala converged at once. "aSH" is the final opus in the trilogy of portraits of women, after "Questcequetudeviens?" (2008) and "Plexus"(2012). In this trilogy, where I take as a starting point not space – which is my usual theme in theatre – but a woman, a person with a story; a living being who unfolds through dance. Shiva, god of dance, dwells in Shantala Shivalingappa. According to the texts, Shiva has over one thousand names. He is a god of creation and destruction. Lord of cremation grounds, he covers his body with ashes. Shantala Shivalingappa has constructed her dance in the image of this god, whose vibration keeps the beat of the world. I asked Shantala if she wanted to give the ash a try. Ash is not merely the solid residue of perfect combustion: it is here a process. It is part of a cycle of death and birth which begins from nothing, the start of any form in the theatre, and leans towards an ephemeral form before disappearing. Shantala's dance resembles a kolam, a flour drawing made on the ground in the morning and destroyed by the wind during the day, and made again the following day. A geometry has embedded itself in her body through the movements of her Kuchipudi, repeated thousands of time. Circles, points, symmetries, spirals, fractals… her dance seems to be a representation of the very structure of the world. The way the syllables link together in Shantala Shivalingappa is a dance in itself. Shantala's dance is created based on her journey from India to Europe, from Kuchipudi to Pina Bausch, from Shiva to Dionysus… Shantala between her birthplace Madras and Paris, where she lives. Her dance is a perpetual pendulum: somewhere between the Hindu mystique and quantum physics.
Aurélien Bory