Dositej Obradovic - Part 1
Dositej Obradovic (1739 - 1811) was one of the most important Serbian writers, philosophers, and educators of the eighteenth century. Just before the end of his life, he became the first Minister of Education in Serbia, after the exceptional role he played during the First Serbian Uprising. He is the author of the first Serbian anthem – Vostani Serbije, and the founder of the so-called Velika Skola (1808) from which the University of Belgrade later emerged. In addition to Slavic languages, he was also fluent in Italian, Greek, Latin, German, English, and French. As a matter of fact, he spoke Italian and French so well that he often taught them to other students. During his studies of physics and philosophy in Germany, he wrote his two most important books: The Letter to Haralampius (Pisma Haralampiju) in 1783 and the book "Councils of Common Sense" (Sovjeti (saveti) zdravom razumu) in 1784, where he expressed very progressive ideas regarding the future of education.
This list of events in which Dositej Obradović participated, as well as the set of his skills and characteristics that we mentioned, create the illusion of a man who knew what he wanted to do from the first day of his life. That, however, cannot be further from the truth. The secret of this divergence is already apparent in his name; namely, Dositej is his church name, and at birth he was given the name Dimitrije. Dositej Obradovic is not the only historical figure we know by church name, but what might confuse someone unfamiliar with Dositej's early life is a seemingly historical paradox: how can a person who is remembered for advocating the transfer of education from churches and monasteries to schools, so to speak in the sphere of the public, be known by the church name, and not by the civic name?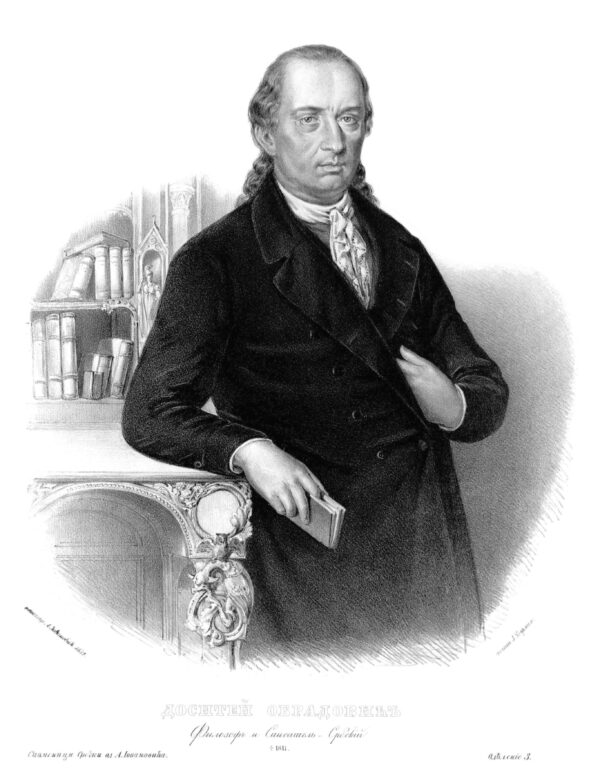 source: www.wikipedia.org
As the previous paragraph suggests, the answer lies in the early life of Dositej Obradović. Namely, the young Dositej Obradović really wanted to become a monk. He was completely fascinated by the hermit's life of monks, and spent his childhood learning and reciting the Gospels. At first, this information should not confuse anyone; at that time, parents often "pushed" their children in the direction of the clergy, however, Dositej's parents and later guardians hoped that Dositej Obradović would take a different path. So, young Dositej Obradović was independently preparing for the service in Church. Thus, on one occasion, Dositej Obradović almost escaped with the monks from Decani, with whom he wanted to go on a pilgrimage to Hagia Sophia (Istanbul). Being already without both parents, his uncle (who took care of him after the death of Dositej's parents) intervened and moved Dositej to Timisoara to learn some craft. However, Dositej's desire to become a monk was too strong, so young Dositej, this time successfully, escaped and went to the Hopovo monastery in Fruška Gora. He consistently lived his ascetic ideals in Hopovo, and very quickly received religious titles. He first became a deacon, and then a monk, and people all over Srem came to him to heal them with his prayers.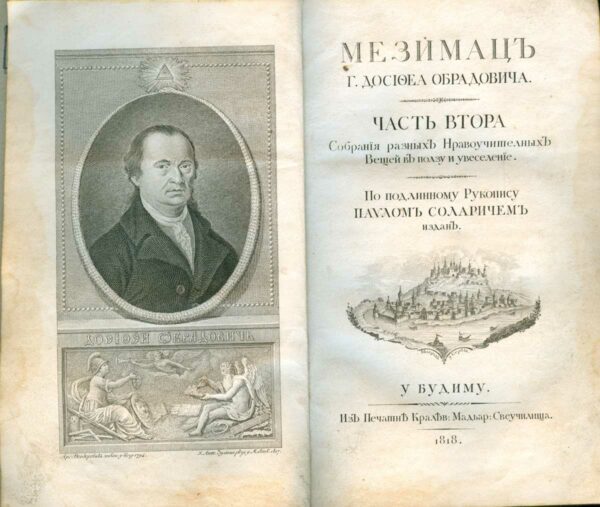 source: www.wikipedia.org
Soon there was a kind of schism between Dositej Obradović and other church figures, so he left the Hopovo monastery. He began to learn Latin - a language he did not need for the services in Church because he was primarily associated with Catholicism, and included in his "library" civic literature where he first came into contact with Enlightenment ideas. He also begins to learn about other religions, and embarks on his Enlightenment tour. However, the "schism" from the beginning of this passage does not refer to religion as such, but exclusively to internal aspirations. His first travels took place in the Balkans, where he still lived in monasteries in the places he visited. Thus, before the trip took him to Western Europe, he first spent a lot of time in Hilandar, where he befriended the monastery brothers, but not as a spiritual person, but as a profane person.
Soon after, Dositej will set out on the road to Western Europe, where he will learn new languages, and further delve into Enlightenment literature, philosophy, and physics. His openness to knowledge, which first attracted him to the Church and then drove him out of the Church, will adorn him for the rest of his life. But, you will be able to read more about that in the second part of the blog about Dositej Obradović, in which we deal more with the enlightening phase of his life.